While trends in stone flooring frequently change, patterns remain one of the more popular ways to install stone in large areas such as family rooms, entry ways, and kitchens. Of these patterns, multi-piece patterns that use a variety of sizes of stone are particularly popular due to the movement and complexity that they offer to a room. One of the most popular stone patterns – used predominately with French limestones, but other stones can be used as well – is the Versailles pattern.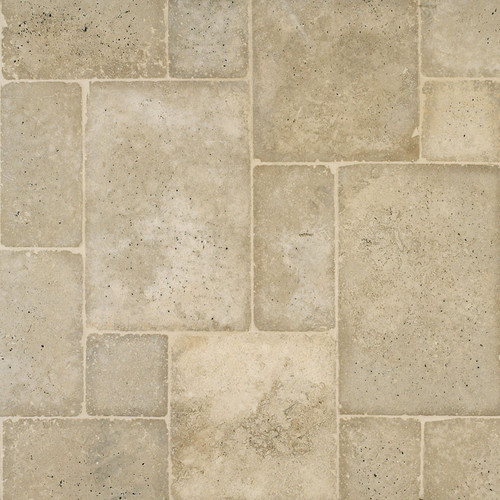 The Versailles pattern is made up of four pieces; a large and small square and a large and small rectangle. The width of the two rectangles is equal to the width of the two squares, with the larger square typically being twice the length of the smaller. This enables the four pieces to lock together into a repeating pattern.
Like all multi-piece patterns, the Versailles pattern does best when installed from a corner of the room moving outward so that the bulk of the pattern gets shown in the center of the room, but that also the pattern can draw the eye across the room, creating a sense of movement.
The Versailles pattern can be used with nearly any type of tile – not just stone – but it looks best when used with stone tiles that have some texture to them. French limestone tiles with their characteristic pitted surface, stone tiles that have pillowed edges, travertine, and tumbled limestone are all the most common stones used in this pattern.
Occasionally, the Versailles pattern can also be used with pavers out of doors, eliminating the need for grout. Because this pattern works so well with very large tiles – 36-inch and 48-inch rectangles are not uncommon with this pattern – it's usually used to fill very large spaces where a square set tile floor would produce too much of a grid.
The Versailles pattern is one of the oldest and most classic multi-piece stone patterns. Consider using it wherever you need more interest and dimension on the floor.