Marble, granite, and limestone are all used frequently on the walls and floors of shower stalls and surrounds. And while these stones look beautiful as tiles, some stones with dramatic veining and color patterns can become too busy in a small space when broken up into 12-inch squares. With veins and colors running in all directions and grout lines forming a grid, it can overwhelm the area, and force the homeowner to make another, safer choice for their shower surround material.
For homeowners that want that dramatic veining in their shower, without the grout lines or the busyness that tiles can bring, there is another option: stone slabs.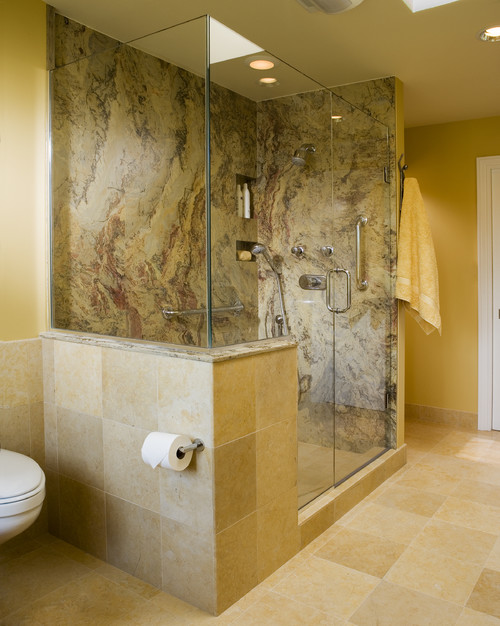 Stone slabs are the large, often 5-feet or bigger pieces of stone that are primarily used on countertops. These larger, unbroken expanses of stone let the true nature of the stone's color and veining come through. And while they aren't use frequently on floors and walls, this is a viable option.
Stone slabs being used on shower surrounds and shower floors are fabricated exactly like they would be for a counter. A template is made of the shower, including the placement of shower heads, valves, and drains. The stone is then cut to fit the space, with often two or more slabs being used and epoxied together at the edges to form a watertight seal.
The end result is a beautiful, dramatic shower that can make a statement and become a focal point in bathrooms with open designs. Stone slabs make an excellent choice on shower floors in small areas, although they can be used in larger situations as well if small channels are dug into the stone to help funnel water toward the drain.
The next time a beautiful, but busy stone is passed by for the shower due to chaotic appearance of the tile, consider using a stone slab in its place.