While Sherwin Williams went neutral for their color of the year, Pantone has decided to go green with the announcement of their color of the year – Greenery. This bold, yet light green has a hint of lime to it, and is sure to liven up any environment it's seen in. The nice thing about all shades of green, is the way they work with a vast number of other colors, including blues, yellows, and reds. Greenery is no different, pairing well with several shades of yellow, as well as bold turquoise. If you're considering adding Greenery to your walls this year, make the most of the color by pairing up a beautiful natural stone for your floors or counters.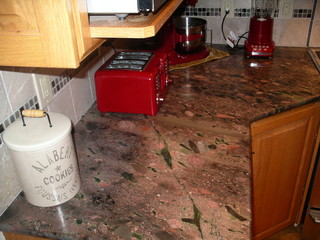 There are several stones that will work well with Greenery, regardless of whether you want a green stone or something in another color. Uba Tuba, a dark green stone that borders on black, would work particularly well with Greenery, featuring flecks of gold and turquoise that would give you many accent choices.
Costa Esmerelda would also work well if you're looking for a monotone color within the room. Costa Esmerelda has a background color that blends nicely with Greenery, and depending on the stone you choose, you may also get marshmallow white veins, yellow, and turquoise hints.
If you want a stone that will match Greenery well without a lot of other colors, consider Coast Green, which has a yellow/green color in a more traditional granite pattern of closely packed grains.
For marbles and more exotic stones, consider using Alba Chiaro with your Greenery walls. This white stone features green and sometimes peach swirls and veins over its surface. Technically a type of onyx, Alba Chiaro has a beautiful translucence to it that will make your floor or counter glow.
Or, if you want to contrast the green color and bring some additional depth to the room, consider a stone like Fouco, which is a wild mix of reds, greens, and creams, and which can liven up any living space.
Make the most of Pantone's color of the year for 2017 by pairing it with one of these natural stone choices to celebrate all things green for the new year.