All natural stone has some degree of variation in color from lot to lot and from piece to piece in tile. Some stones may have very low amounts of variation that make blending a lot simple, and make choosing a dye lot easy because there is little difference between them. Other stones, however, have extremely high amounts of variation both from lot to lot and from piece to piece. These stones can be difficult to install straight from the box because the colors may clump up during the installation. At the same time, it can be hard to know if these stones will work in any given installation simply by looking at a single sample, because it doesn't tell the whole story. In this case, working from multiple tiles at once is the best way to get a pleasing, finished installation.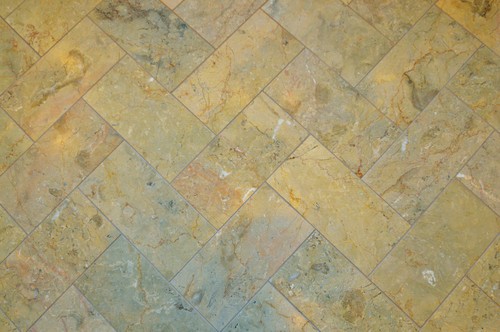 When using any type of highly variable stone such as Sahara Gold or Verde Luna, samples should be taken from an entire box of a current lot, rather than a single showroom sample. By laying out 10 tiles at a time, it's easier to get a better idea of what the finished installation will look like.
Once the selection has been made and the tile purchased, a dry layout or dry blend of the stone should be done prior to installation to give the most pleasing look to the tile. A dry blend involves mixing the tiles from several boxes at a time, laying them out without any mortar. This way the colors of the tile can be blended evenly across the entire surface of the installation, so if one box contains a tile that is more green or gold than the others, you won't end up with a block of that color in the finished installation.
During the dry blend, any tiles that are very different in color, or that the homeowner doesn't enjoy the color of, can be removed and used for outside edges, cuts, or even waste tile to provide the best results.
Any time a highly variable stone is chosen for an installation, be sure to work with as many pieces as possible both during the selection stage and during the installation to ensure the most pleasing finish.