Natural stone is nearly endless in the amount of styles, colors, and choices there are available today. When it comes time to pick a kitchen backsplash, natural stone makes a beautiful, versatile choice, complementing a number of different styles. Best of all, stone can be used in a variety of different ways to create a unique design that's just right for nearly any setting.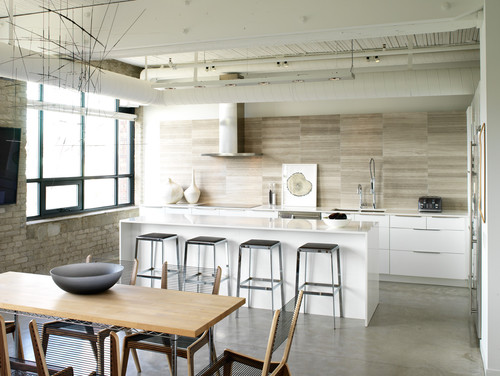 One way to use natural stone and to take advantage of its depth, is to mix finishes on your tiles throughout the backsplash. Polished stone works best in dark or small kitchens, because the reflected light makes the kitchen appear lighter and larger, but it doesn't always work with every design style. Instead, consider working in a few random polished tiles in a matte field. The light will hit the polished stones differently than the matte tiles, even if the stone itself is the same. This adds a lot of depth and interest to the design, getting the best of both worlds.
Another way to make good use of natural stone in the kitchen is to mix a variety of sizes of the same stone in the design. For example, use larger stones along the counters, and switch to a mosaic of the same stone behind the cooktop. Many stones look different when used in varying sizes, which adds to the interest in the room. This can also be done using a variety of different stones. For example, try using a blend of 4-inch Rosso Asiago, Giallo Sahara, and Crema Marfil along the counters, then switch to a mosaic blend of the same stones either as a border or as a focal point. This adds a lot of depth to the design that might be lacking when using one single size.
When using very textured stone, consider making the most of the 3D effect of the stone by bringing it into other areas of the room as well. Creating an archway above the cooktop, or tiling the hood can emphasize the texture of the stone and of the effect that it creates.
Natural stone is one of the most versatile materials out there. Take advantage of the many sizes and finishes available to create a backsplash that stands out from the crowd.