Soapstone has an ultra-smooth surface and an appealing depth of color that makes it one of the more popular choices in kitchens around the world. Made of metamorphosed talc, soapstone doesn't stain or etch the way that other stones do, and it can be oiled to bring out a lot of additional depth and color. There are also several different variations of soapstone available, which means there's likely a type for everyone to enjoy.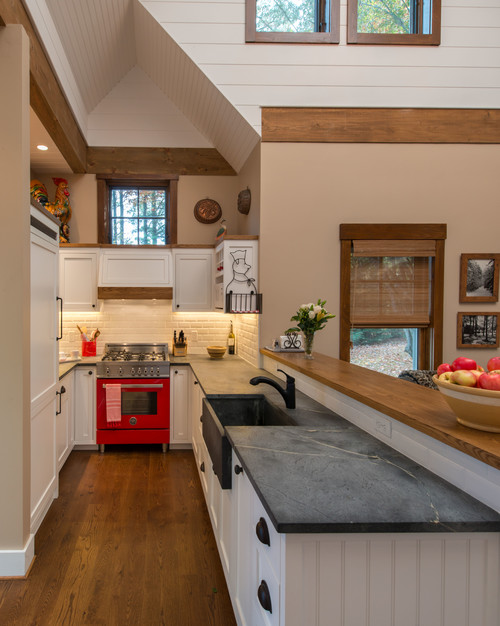 Vermont Soapstone is a dark gray stone with minimal veins that becomes a very deep green when oiled. Despite its name, this stone originates in Brazil, and is most often what people think of when they consider soapstone for their kitchens.
New Iceflower is also from Brazil. This is another dark gray stone that has minimal white veining. What makes it unique is the fact that it frequently has white crystalline spots across its surface that make it appear as though it has freshly fallen snow on the surface.
Green Soapstone is from Finland. It's a very rich green in color that is reminiscent of some very dark green marbles. It's a lot denser and more substantial than soapstones found in Brazil, so it can sometimes be cut into extremely large slabs.
Barocca is another soapstone from Brazil. This is a very light gray stone that has minimal to no white veining, and a much more consistent appearance than some other stones.
Silver soapstone is another very light gray stone from Brazil. What makes it different from Barocca is the presence of lots of white veining, which in some cases can appear as though swirls of marshmallow were moving through the stone. This soapstone has a lot more movement and energy to it, while still remaining very light and neutral in color.
Emerald soapstone is an extraordinarily wild green stone from Brazil. Dark green in color, this stone has a lot of movement, color, variation, and veining. It's a fairly rare stone, so on the pricey side, but when oiled it has the appearance of a rich, emerald green that makes it extremely appealing.
Gray soapstone is the final stone emerging from Brazil. It has a dark gray color, but lots of rich white veining and a lot of movement.
Soapstone's popularity isn't going away anytime soon. If you want a unique, low maintenance stone for your kitchen, consider one of these beautiful options.